French & peacenik weasels

Visits since Feb 26, 2003:
Last updated Apr 12, 2003
(Go home human shields!lol)
(NY Post humor)
3/19 (New doctrine)

THE COALITION (47 TOTAL): US UK ES IT AU BG PT HU CZ DK PL KW AL HR EE LV LT MK RO SK SI MANY OTHERS


"Some people live an entire lifetime and wonder if they ever made a difference in the world;
the Marines dont have that problem"
R. Reagan
Dec 13 2003: Caught like a rat!
Apr 9 2003: Baghdad Surrenders, Saddam Flees...

Yet again, America brings freedom and joy to the world! Watch foxnews (forget about CNN-Communist News Network :)

Unbelievable sights...
Watch it, enjoy it and DONT EVER FORGET!
I never forgot when the same happened in Communist Romania where I was born! Hence my hatred of tyrants everywhere!

BREAKING NEWS! BIGGEST YET NOT REALLY SURPRISING REVELATION - CNN HAS LIED ABOUT IRAQI ATROCITIES ALL ALONG... I HAVE NO DOUBTS THEY DO THE SAME WHEN REPORTING ABOUT THE PALESTINIANS / ARAB WORLD ELSEWHERE. BUNCH OF COWARDS AND YES SAYERS THAT HANG ON TO THEIR CUSHY OFFICE JOBS.
The original article in a paper the name of which I wont mention ...:)


I DO NOT read NY Slimes (NYtimes) and DO NOT watch Communist News Network (CNN) nor even get close to the hated Bolshevic Broadcast Corp (BBC)... You will find however my kind of reports in NYpost.com , Jerusalempost.com , Nationalpost.com , Nationalreview.com , Opinionjournal.com(Wall Street Journal ed page), FreeRepublic.com , Newsmax.com , ... I could listen to WABC radio, FreeRepublic radio and watch Fox News. Nothing else!

Thank our troops(10 mil signed already) Support our troops Adopt a soldier!


New! Best Troops support Music Video clip! Must see! Dial-up Broadband-other site New! VIDEO:Who are those peaceniks? Must see! San Francisco New York Check out my WEASELS ESSAY!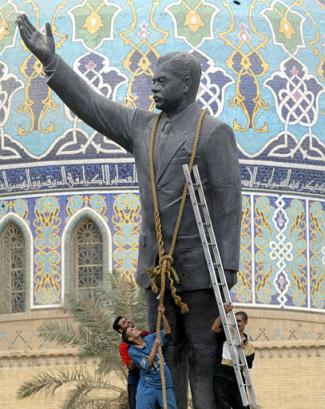 "I'm 49, but I never lived a single day," said Yusuf Abed Kazim, a Baghdad imam who pounded Saddam statue's pedestal with a sledgehammer. "Only now will I start living. That Saddam Hussein is a murderer and a criminal."





"GO HOME HUMAN SHIELDS, you US wankers!" proclaimed a banner carried by 2 Iraqis in Baghdad...(Thanks so much for the pic...)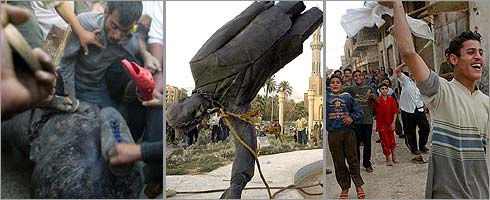 "Now my son can have a chance in life," said Bushra Abed, pointing to her 2-year-old son, Ibrahim as they watched the statue come down in central Baghdad.

"Oh, the Iraqi people are happy now," said Flaih, 49, a former Iraqi army officer who arrived in New Hampshire with his wife and two sons 2 years ago. "It's the happiest moment in my life. It's my liberation day."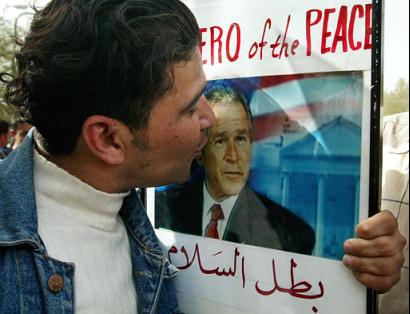 "It's beautiful," said Derweesh, 32, a Cleveland surgeon whose family left Iraq when he was 9 years old. "I cried tears of joy."

OP. Iraqi Freedom nearing victory! - Faster than I expected and all those losers predicted! Joy and exhultation on the streets of Baghdad (reminds me of the collapse of Communism in eastern Europe - was such a rush for millions including myself!).
The Arab world again cannot grasp the facts- same as when Israel was victorious in the past...they call for pan-arab fight! Empty words of bravery, lies, deceit and false pride is the rule in those Moslem countries. Lighten up retards! We're living in the 21st century not in a AliBaba's times!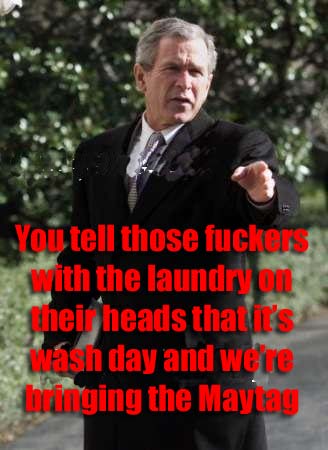 For the sake of the millions already butchered by Saddam and those yet to be ...
Learn more. about the Butcher who modeled himself after Stalin. At over 1 million victims he is about 40 mil behind his hero, give or take a few million people...
Saddam exterminated Iraqis ranging from close friends and allies to kurds and shiites, clinging ruthlessly to power. He butchered neighbors in Iran and Kuweit and used chemical weapons indiscriminately on civilians and military.. This guy pays some 25 thousand dollars to each family of Palestinian suicide bombers and leaves his own people in rags! Do you have any doubts about what he would do with A-bombs? I don't, and I wouldnt take any chances in finding out...
The animation above is for the mobs of zombies in the streets that claim Bush is more of a menace to the world than this BUTCHER! Hope you feel good about it!





So typical of Arabs (it ain't inborn, but rather taught in those moslem backward dictatorships)....
Lies, deceit and treachery: "In one incident, Iraqi troops raised a white flag of surrender - only to attack their approaching captors with artillery fire. In another, he said, a group of "civilians" made motions to surrender and then opened fire when American marines came forward." They use hospitals and schools for military purposes They deny having chemical weapons however thousands of chemical protection military suits were found fully equipped with nerve gas antidotes. Ever wondered why? They use women and children as human shields They execute POW's They shoot Iraqi soldiers that try to defect in a most atrocious way : they dress in American uniforms. If any Iraqis surrender to them they shoot them!


They keep Iraqi soldiers at gunpoint and threaten to shoot their families in order to coerce them to fight!

They hanged a woman for waving to coalition planes! These are subhuman beasts that thrive in tyrannies (I've seen that in Communism before). Israel has been battling similar monsters with little backing from the West.
Boycott France!
.
The French loosers :)
.
READ
my opinion on the UN, the European Weasels and the anti-war demonstrators :)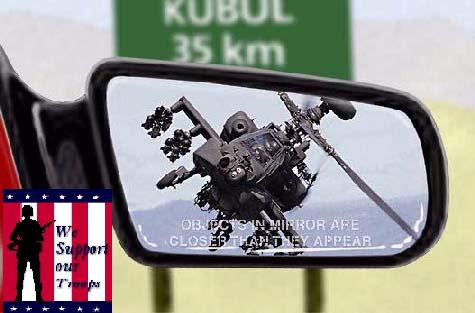 Time to bomb Saddam - hilarious cartoon!
The 1936 pre WW-II Munich Agreement was popular with most people in Britain and ALL OVER THE WORLD because it appeared to have prevented a war with Nazi Germany.

Now the peacenik weasels do it AGAIN! CHECK OUT MY ESSAY!
WAR IS JUST WHEN IT SAVES THE LIVES OF INNOCENT PEOPLE, IT SECURES WORLD PEACE, AND ELIMINATES DESPOTS. THINK OF THE TORTURED UNFORTUNATE SOULES KILLED CONTINUOUSLY BY HIS REGIME AND UNDERSTAND THAT EACH DAY THAT PASSES ONLY CONTINUES THE KILLING. THIS IS THE PRICE OF YOUR INACTION!
VIDEO: Crazed Iraqi preacher draws sword to butcher Jews & Americans! (need Win player 9 codecs)1Mb
Same vid clip, smaller, (500 k)
Original version of same clip, Real Audio format(250k) Please note this was going on weeks before the war started
The transcript runs as follows :

The victory is close with Allah's will! (8sec)
To the ones that I won't mention their names: (12)sec
The Americans, and their President,
and The british and their supporters (16sec)
The Zionist, the stepsons of the US! (20sec)
Alah Akbar! Muhammad's Nation! (27sec)
Even the rock would say: There is a Jew behind me! (32sec)
Come and behead him!(35sec)
(draws sword and waves menacingly) And we will behead him! By Allah! We will behead him! (41sec)
Oh Jews! Alah Akbar! >Jihad (holy war) for Allah! Victory to the believers!
Allah Akbar! Allah Akbar! (the entire mosque gets excited)
AUDIO: Mohammed, an Iraqi refugee blasts peacenik zombie (Peace and Justice's spokesperson)
Bob Gorrell - national/syndicated. CLICK ON CARTOON FOR MORE....
---
New! Link of the day: http://www.hawaii.edu/powerkills Democracies tend to be less aggressive than tyrannies. See also chapters on democides in the 20th century... Revolting and shocking! Following the collapse of Communism, America needs to change it's cold war era doctrine. No more support of dictatorships such as Saudi Arabia and Egypt just for the sake of Communism containment. We should engage world's democracies in active economic and diplomatic sanctions in order to collapse dictatorships in North Korea, Iran, Syria and Libya! Tyrannies, dictatorships and despots not only bring grief to their own countries but also are more aggresive and war-oriented toward their neighbors as seen in the above link!


---
Link to several articles written during Operation Iraqi Freedom.